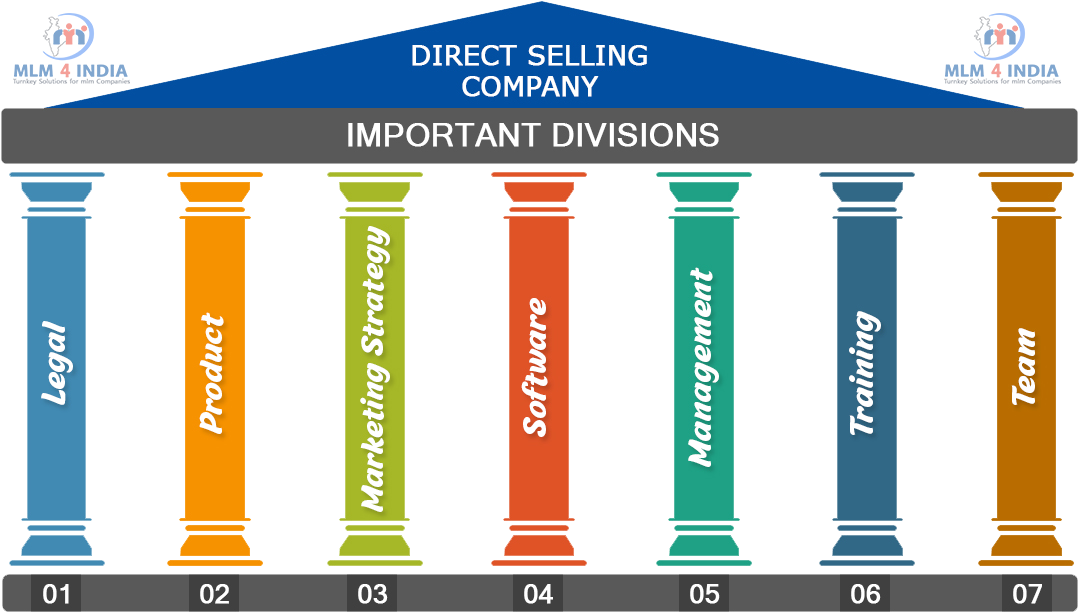 Our Approach towards Startup Direct Selling Companies Consulting
We are into consultation of Start up Direct Selling Companies. We focus on professional, growth oriented, Practical, Legalise & Sustainable company creation. For more than a decade now, we have strong associations with Chartered Accounts, Lawyers, Software Providers, Product Manufactures, Product Suppliers, Business Plan designer, Trainers & Successful networkers etc. All these are the pillars of any successful direct selling companies. We believe that if you have correct co-ordination of all the above pillars, you can build a very strong foundation of a successful company.
Our Team consists of Legal Advisers:
We have Chartered Accounts & Lawyers in our team. This may not involve in direct meeting with you every time due to their busy schedule. But our other consultants are in contact with them to make sure that everything is going with the 100% legal compliance. They would be available on call whenever required.
Product Consultants:
Our consultant(s) is having in depth knowledge & experience of quality product mfgs & product suppliers across the nation. We will ensure to make you available with Good Quality,Lowest rate in Market with Your Label.
Marketing Strategy:
All of our team members are in association with Network Marketing since more than a decade now. So We know almost each & every major running concepts in the industry. We know pros & cons of every plan, every income, response of market with the plan etc. So Our consultant will explain & guide you different income structure that Is suitable to your business & your targeted audience. We will check the profitability of the plan with our software experts to make sure about company's long term working cycle.
Software Consultants:
Software is considered to be a backbone of any Direct selling companies. As a company, you have to choose software companies with consideration of good features, good service supports, technology, security, server & team knowledge also. We have good software company with us & we can also guide you in selecting good software vendors also.
Training:
We are in contact with few quality trainers who can host meetings & present your companies in meetings. They have a good experience in people training. Good Trainers can give you a sure boost in your startups. We will make you available with different trainers.
Team:
Once your all setup is done, we can also help you in recruitment of good networkers for your company.