Repurchase Plan
The repurchase plan is the most successful in the Global Market.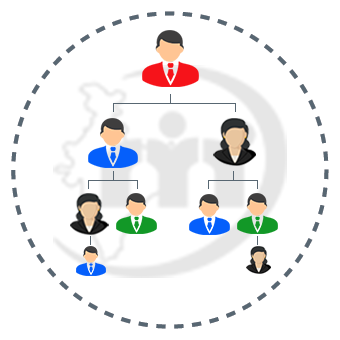 Some of the major Network Marketing companies like Amway, Oriflame, and Tupperware, etc. are also following the fundamentals of the Repurchasing plan. And the fundamentals we are talking about is based on promoting and selling products and services offered by a company.
Most successful Plan in Global Market
Big Network Companies are successfully running with the Repurchase plans. For Example, Amway, Oriflame, and Tupperware, etc
Companies need to have a good product portfolio with them if they plan to put this plan on the Market.
Repurchase Plans Commissions are calculated as per Generation Plan and Gap Commission.
Generation Plan
Repurchase Commission is distributed on Multiple Fixed Levels according to set by the company.
Easy to Understand by common People.
Negative points of matrix plans in the market.
This is a synonym of Level Plans / Matrix Plans.
MNC Companies like Amway, Oriflame, and Tupperware are running Gap Commission Plans.
Gap Commission
Generation plan is also called Repurchase Plan or Gap Commission Plan. This plan is favored by companies that are purely into product selling rather than recruiting associates. This plan keeps members motivated at selling, irrespective of the level or generation they are in.
The higher the designation, the Lower is the Commission Percentage. As on higher designation, Member will take benefit of a huge team with them.
Once a Member reaches a higher position, he will start more income in gap commission than in.